Flemish Car Free Day 2014 - bigger than ever!
August 26, 2014
Taxistop's Car Free Day is becoming bigger and bigger each year. To date, 160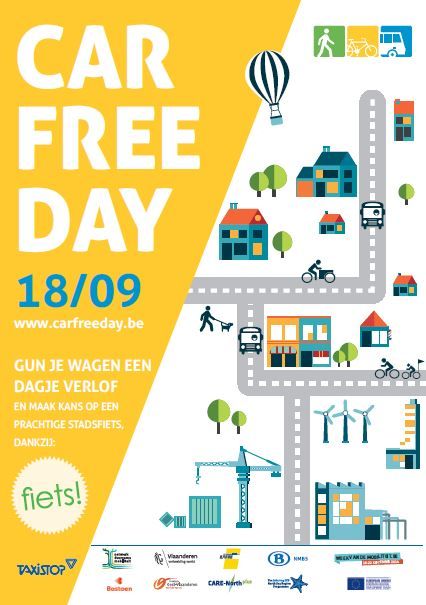 employers in Flanders have registered and engaged themselves to organise a special activity on the 18th of September. With still one month to go, the total number of participants of last year (which was 150 employers) has already been exceeded. All together, the participating organisations employ over 126,500 people.
These registered employers are very diverse. They are large private companies and small businesses. They are state institutions that employ over 10,000 people, local governments and little non-profit organisations. The actions they organise are sometimes small, like a breakfast or a little reward for sustainable commuters but a number of employers have also done a lot of effort to find an original approach. Some employers promise to offer an amount to charity per saved kilometre by car. Others will plant a tree for each employee that comes to work by bike.
The 2014 Car Free Day promises to be a spectacular one, not only with respect to the number of participating employers and employees: for the first time, a major Flemish radio station will support this day by organising a "Train-Tram-Busk-event". The radio station will encourage Flemish people to take public transport to work that day. They will organise performances of local artists on trains and bus platforms, and of course, every commuter can do a little performance himself/herself!