Meet "AVIRA" - Car Sharing Support for Persons with Disabilities
January 13th, 2015
AVIRA is a Belgian acronym for "Autodelen Voor Iedereen met Rolstoelvriendelijke Auto's" (Car sharing for everybody with wheelchair-friendly cars). The name also stands for harmony, balance and a positive view of life. This is exactly what the concept is aiming for. The goals of car sharing concerning the environment and sustainable mobility are being linked to the goals of the UN Convention for the Rights of Persons with Disabilities.
How it works
A wheelchair-friendly car is far underused and mostly only one or two people use a single adapted car. To optimise the level of use, the cars can be shared with other disabled persons and the nearby living neighbours. In this way, disabled persons become better integrated in their neighbourhood and the cars can be used by different people. This is the perfect match between goals in terms of fewer cars, fewer CO2 emmissions, more space, more use of public transport and goals concerning social inclusion and accessibility for disabled persons. The Belgian umbrella organisation for car sharing created a method to introduce this concept in an easy and structured way. Organisations, care centers and persons with disabilities get full support from Autopia to introduce this innovative car sharing concept in their neighborhood.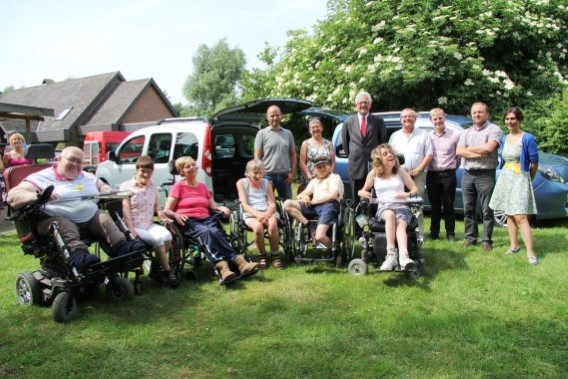 Environmental and social impact
Currently, around 10 wheelchair friendly cars are being shared in 5 pilot projects. One project has been running for 1.5 years and the results are better than expected. 35 people are using two adapted cars, amongst them 17 neighbours. 70% of the users living in the care center say that they have more contacts with neighbours since the project began. There is still a lot of work to ensure AVIRA can make a real impact on society. The Belgian law has to be adapted to this car sharing system (insurance-, tax- and administrative issues), the volunteers system requires additional structuring but governments, care centers, neighbours and persons with disabilities are very enthusiastic about the idea and making these changes. Autopia is aiming for 30 running AVIRA-projects by the end of 2016 in Belgium and pilot projects in at least 3 other European countries.
If you are interested in starting this kind of project in your own country, contact jeffrey@autodelen.net.
Video
The people from the first AVIRA-project (care center "Pegode") made a movie about their experiences with AVIRA-project to promote the concept in Europe. Enjoy this heartwarming video!