Downloads
The graphic recording artist Eli Breuing from Visuelles Denken documented the first day of the CARE-North plus final conference "On the Move - Transport Strategies for a Low Carbon Future" in a very special way. Here it is to download!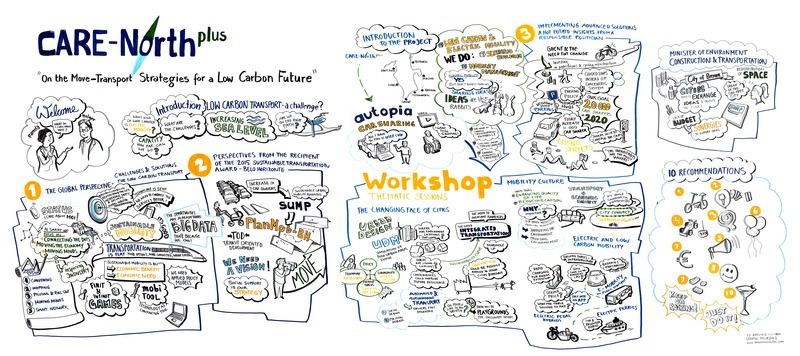 Here you can download all of the presentations held by the CARE-North plus project partners and guest speakers at the two-day project final conference titled "On the Move - Transport Strategies for a Low Carbon Future".
The CARE-North plus thematic papers on:
Building a Cycling Culture in Your City
Shared Mobility: A Part of a Low Carbon Culture
Electric and Low Carbon Mobility
Electric and Low Carbon Waste Management
Reacting to Transport and Energy Game Changers
Autonomous Vehicles – Impacts on Mobility of the Future
Policy Recommendations
are available to download below.
Fachtagung
10 Jahre 'mobil.punkt' am 29. Mai 2013 in Bremen:
Erfahrungen und Perspektiven mit Car-Sharing Stationen im öffentlichen Raum
Download der Präsentationen
Eine LOWCAP Projekt Veranstaltung.
| Attachment | Size |
| --- | --- |
| Ankündigung + Programm Mobilpunktgeburtstag | 267.46 KB |
| Prof. Dr. Axel Ahrens, Technische Universität Dresden: Car-Sharing und Mobilitätsverhalten – Erkenntnisse der Forschung | 1.64 MB |
| Dipl.-Ing. Gisela Stete, Büro für Stadt- und Verkehrsplanung Darmstadt / SRL: Deutscher Verkehrsplanungspreis 2010 für die 'mobil.punkte' | 2.16 MB |
| Gunnar Polzin, Abteilungsleiter Verkehr beim Senator für Umwelt, Bau und Verkehr, Freie Hansestadt Bremen: "Die Perspektiven von Car-Sharing im Verkehrsentwicklungsplan Bremen 2025" | 2.52 MB |
| Willi Loose, Geschäftsführer, Bundesverband Car-Sharing: CarSharing-Stationen im öffentlichen Raum – Lösungsansätze und Probleme im Kurzüberblick | 2.18 MB |
| Jutta Kirsch, Cambio/Stadtauto Bremen: Die Wichtigkeit von Car-Sharing Stationen im öffentlichen Raum aus Sicht von cambio | 851.11 KB |
| Michael Glotz-Richter, Referent Nachhaltige Mobilität, Freie Hansestadt Bremen: Vom 'mobil.punkt' zu den 'mobil.pünktchen' | 4.7 MB |
Currently, emissions from transport represent a quarter of Scotland's total. While the Scottish Government has identified a number of transport policies, which would contribute to Scotland's ability to meet its targets, action to significantly reduce greenhouse gas emissions from transport has been limited, poorly integrated with other areas of policy, and focused on narrow programmes. Drawing on best practice from cities across the North Sea Region, this paper considers how public engagement can be utilised within the development of holistic low carbon urban development.
Consideration of regions where strategies have been successful reveals a context where transport is considered as part of wider urban design and urban development, thus ensuring that the potential benefits are directly related to concerns of planning, housing and behavioural change. The paper includes information and conclusions from a case study in Aberdeen, Scotland.
Paper by:
Professor Richard Laing, Scott Sutherland School of Architecture and Built Environment / IDEAS Research Institute, Robert Gordon University, Aberdeen, UK.
Dr Elizabeth Tait, dot.rural, RCUK Digital Economy Research, University of Aberdeen, UK.
Professor David Gray, Aberdeen Business School / IMAGES Research Institute, Robert Gordon University, Aberdeen, UK.
A partnership meeting was held in September (19-21) 2011 - organized by the CARE-North partner METRO.
The first two days we have had project internal meetings. On the third day, METRO had organized a 'Getting Transport to Work' – Businesses and Corporate Social Responsibility
conference.
You can find the presentations as pdfs for download below.
The event was held in the "Pelarsalen" at City Hall/Stadshuset, Malmö - 16th March 2011.
This half day seminar had the objective of transnational learning, targeting local and regional actors. The idea was that CareNorth provides some European examples for optimized car-use
and less car-dependant lifestyles through the use of car-sharing/car-clubs.
Presentations:
From car-culture to car-clubbing - first steps towards the implementation of car-clubs
Speaker: Scott Ramsay, City of Aberdeen
Car-club for employees within the municipal organisation
Speaker: Anette Thorén, City of Göteborg
Local transport plans and car-sharing/pooling initiatives in West Yorkshire
Speaker: Diane Groom, Metro (West Yorkshire Integrated Transport Authority)
You don´t have to own your car to use it
Speaker: Susanne Malmström, Sunfleet Carsharing
Would you buy a cow for a glass of milk?
Speaker: Michael Glotz-Richter, City of Bremen (SUBVE)

The event was held in the Council Chamber, Aberdeen City Council Town House, Broad Street in Aberdeen on the 12th October.
Aberdeen City Council and Robert Gordon University were hosting a one day conference with the CARE North Partners to demonstrate best practice in addressing carbon emissions from transport.
The event was chaired by Dr David Gray from Robert Gordon University and covered issues like Low Emission Zones, Car Clubs, electric car infrastructure and provision, freight distribution and public transport. It also highlighted Scottish Government policy and public buy in to carbon reduction transport strategies.

---
The Scottish Perspective
Kirsty Lewin, Transport Scotland
The Urban Realm & Public Engagement
Professor Richard Laing, Robert Gordon University
Freight Distribution Actions
Philip Smart, StratMoS Project
Carbon Management in Aberdeen
Gordon McIntosh, Aberdeen City Council
Public Transport Innovation in West Yorkshire
Steve Heckley, Metro
Going Electric
Paul Trip, Province of Fryslan
Sustainable Transport in Malmo: Walking & Cycling
Bjorn Wickenberg, City of Malmo
Clean transport as a step to a more sustainable transport plan: LEZ & Car Clubs
Michael Glotz Richter, City of Bremen
SCoop! has been published by the Interreg Project Management Team of the Province of Drenthe in the Netherlands. It is a Dutch magzine reporting about 7 Interreg projects on sustainability in the Northern Netherlands in this issue from May 2010. It gives a brief overview about CARE-North and the activities the project partner provincie fryslân is involved in. In the Download section you can get hold of the Dutch as well as an English version.
Enjoy!
The City of Bremen in cooperation with the GTZ presented three workshops under the theme "The Future of Mobility - Options for Sustainable Transport in a Low Carbon Society" at the Bremen Stand on the Urban Best Practice Area at the Shanghai Expo from May 24th to 26th 2010.
The workshops focused on the following three key topics for sustainable urban transport:
Day 1 - Mon, 24th: Transport and Urban Development
Day 2 - Tue, 25th: Low Carbon Mobility for Cities
Day 3 - Wed, 26th: The Role of Electric Vehicles
24th May 2010:
1. The Future of Mobility: Options for Sustainable Transport in a Low Carbon Society
Michael Glotz-Richter, City of Bremen
2. Integrated Planning of Urban Quarters and Transport Systems
Prof. Albert Speer, Albert Speer & Partner GmbH
3. Urbanization and Planning in China
Prof. Pan Haixiao, Department of Urban Planning, Tongji University
4. Towards Liveable Cities - International Experiences
Manfred Breithaupt, GTZ
Day 2, 25th May 2010:
1. Urban Transport Challenge: Transport Development and Low Carbon Policies in China
Prof. Pan Haixiao, Department of Urban Planning, Tongji University
2. Carbon responsible transport strategies in Bremen
Michael Glotz-Richter, City of Bremen
3. Low Carbon Mobility Stockholm, Sweden
Gustaf Landahl, City of Stockholm
4. Case: SPINNING WHEELS - the revival of the bicycle
Signe Madsen, City of Odense
5. Opportunities for Urban Transport in International Climate Negotiations
Daniel Bongardt, GTZ
Day 3, 26th May 2010:
1. Introduction
Michael Glotz-Richter, City of Bremen
2. The Trend of NEV and Incentive Policies in China
Dr. Wu Zhixin, China Automotive Technology and Research Center
3. Moving towards the future: National Platform for Electromobility in Germany
Christian Hochfeld, GTZ
4. Prospects for and Effects of E-Bikes in Chinese Cities
Dong Shen, Tsinghua University
5. The Challenge of Designing Electric Cars
Dr. Tobias Giebel, Volkswagen Research Lab China