The North Sea Commission Celebrates its 25th Anniversary - CARE-North+ Gives Input on Green Transport
March 24, 2014
This year, the North Sea Commission is celebrating its 25th anniversary. A conference in the Danish city of Aalborg on March 13th, 2014 brought together stakeholders from the public and private sectors, academia and NGOs to discuss the challenges and solutions of shared problems in the North Sea Region. One of the areas was "Green Transport", which featured a key presentation of the CARE-North+ project.
The chair of the transport group, Cllr. Preben Friis-Hauge from the South Denmark region opened the conference and Jon Halvard Eide from Norway presented the Transport Group of the North Sea Commission. Coincidently, the North Sea Conference coincided almost exactly another 25 year anniversary: with the birth of the World Wide Web. This and other developments of the information and communication sector have revolutionised the way we work and live. More impacts on transport and mobility can be expected and CARE-North+ will elaborate on this further during the duration of the project.
There is a great deal of interest in the outcome of upcoming events of the CARE-North project, for instance for the planned scenarios about the effects of rising fuel prices on the resilience of cities and regions and in the envisaged workshop about the impacts of automated transport.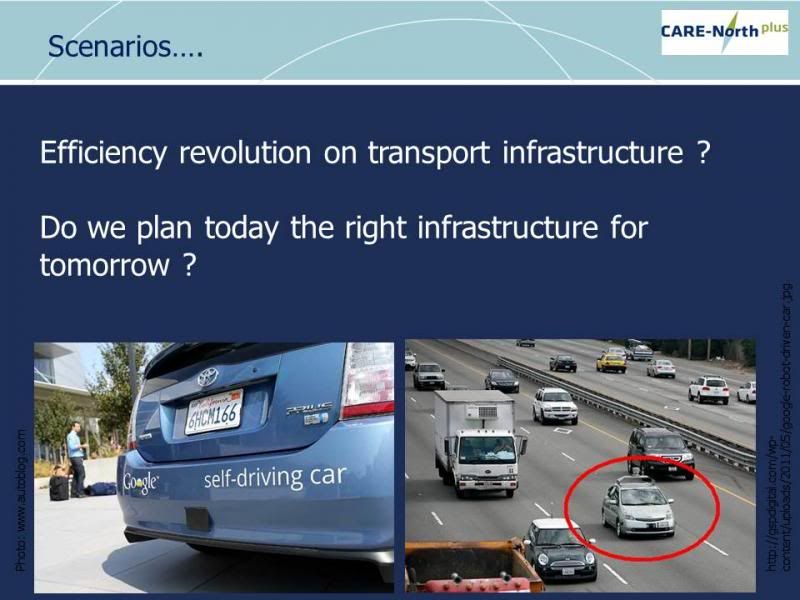 The presentation "Lessons for mobility of the future in the North Sea Area" by Michael Glotz-Richter can be downloaded below.
For more information about the North Sea Commission's Conference, click here.